2018 – Celebrating the 30th Anniversary of Legends Rugby Club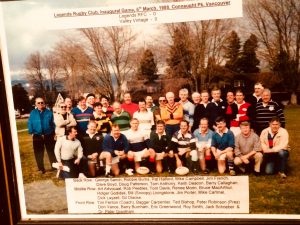 30th Anniversary BBQ
All players alumni and friends are invited.
DATE:               Saturday August 18
TIME:               3 PM
LOCATION:     Connaught Park, 10th & Balsam
COST:                
Food $10 per person 
SCHEDULE:     
3:00 – 4:00 –  Rugby Golf
4:00 – 4:30 –  Cocktails
4:30 – 5:00 – Club Photo – Bring your Jersey
5:00 – 6:00 – Live Music
6:00 – 7:30 – BBQ
7:30-8:30  – Live Music
Video Rugby Golf Explained https://www.youtube.com/watch?v=4eZ508QAE5I
Legends Rugby Club is always looking for enthusiastic old boy rugby players and supporters to join and become part of the team.
We are associate members of the Meraloma Club with members active in both organizations, along with global ex-pats and other Vancouver (Canada) area players.
We play matches on most Sundays at 1pm from September through May, with our sister club Evergreens. Our home games are played at the spectacular Brockton Oval in Stanley Park, Vancouver.
Players 38 years and older are welcome on the field, match rules are variously modified to keep it fun for all and modified contact rules are strictly enforced to accommodate those 60 and older.
Legends and their spouses also enjoy a full calendar of social activities including, hosting game days, mini-tours, monthly alumni nights, seasonal dinners and our black-tie affair, The Legends Other Ball.
If you have played and enjoyed the sport at any time in your life, or would just like to give it a try, come and join in the fun.
Tales of past heroics generally begin at 7:00pm Thursdays in the Meraloma clubhouse, Connaught Park.
Please come down and join us. You are always welcome.