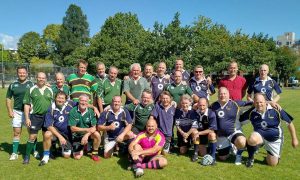 Code of Play
The following should be adhered to as the mode of play by everyone playing the game within the Pacific Northwest Over 40's Rugby Union.
General Play:
Given sufficient consideration to the age of the participants in
Over 40 rugby, games should be played in accordance with the most recent Laws of the game of Rugby Union Football that have been sanctioned by the British Columbia Rugby Union.
Playing Time:
The length of the game shall be determined by an agreement between the captains of the teams. Games will generally be 60 minutes in duration with three periods of 20 minutes.
Substitution:
Substitutions should only be made at a stoppage in play. There is no limit as to the number of substitutions that may be made, nor as to the number of times that player may rejoin a game.
Shorts:
The age code for shorts shall be mandatory for all players as follows:
38 – 49 White
50 – 59 Black
60 – 69 Red
70 – 79 Gold
80 + Purple
Tackling and other physical contact that is a part of the game of rugby should be modified to take into account the age of a player as signified by the colour of the shorts worn. Tackling of Red, Yellow and Purple shorted players is prohibited. Red, Yellow and Purple shorted players should only be 'touch tackled' and after this occurs, immediately initiate a ruck. Red, Yellow and Purple shorted players are NOT allowed to tackle White or Black shorted players. White and Black shorted players are allowed to be 'touch tackled' by Red, Yellow and Purple shorted players. White and Black shorted players are expected NOT to specifically target Red, Yellow and Purple shorted players for one-on-one open field challenges. By prior agreement, no-push scrums may be used to facilitate play.
Underage Players:
As a rule no Over 40 club should use an underage player. This rule can  been modified on occasion to assist developing clubs, however the following guidelines should be followed when a club wishes to play an underage player.
Underage players must be identified as to name and age before the game and may only play with the agreement of the captain of the opposing team
If there is any question about the attitude of such a player in regard to playing Over 40 rugby he should not be allowed to play
Generally underage players should not be less than 38 years old (rules currently allow for anyone who has reached 37 to partake)
In no case should an underage player who is active in Senior Club rugby be allowed to play
Referees:
Clubs should make every effort to have certified referees available to officiate games. The referee must officiate an Over 40 game with the same regard for the Laws of the game as he would have officiating in any other Union affiliated with the B.C.R.U.
It is also desirable for clubs to schedule a session with a certified referee to review changes in the Laws of Rugby Union Football at the beginning of each season.
Suspended Player:
An Over 40 player who has been suspended from play by any Union affiliated with the B.C.R.U or the C.R.U. or any other national Union will not be eligible to play until the terms of his suspension have been met.